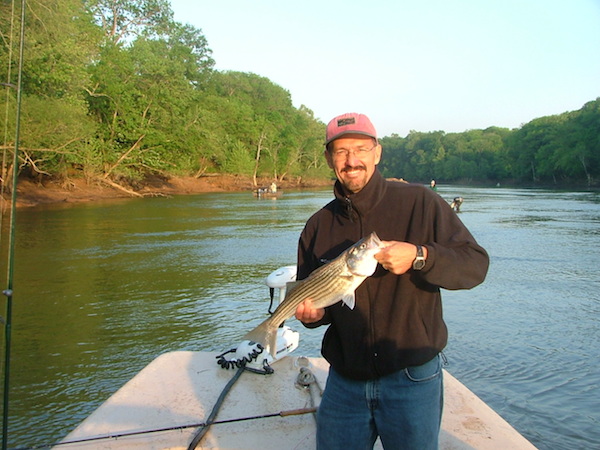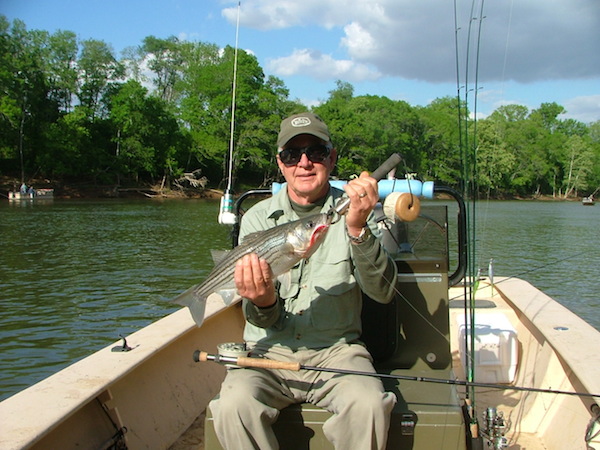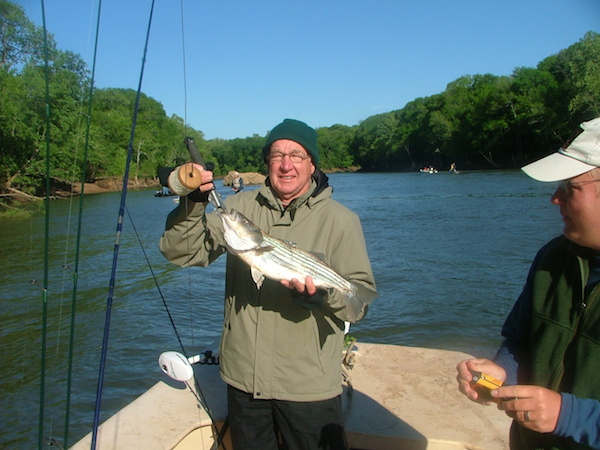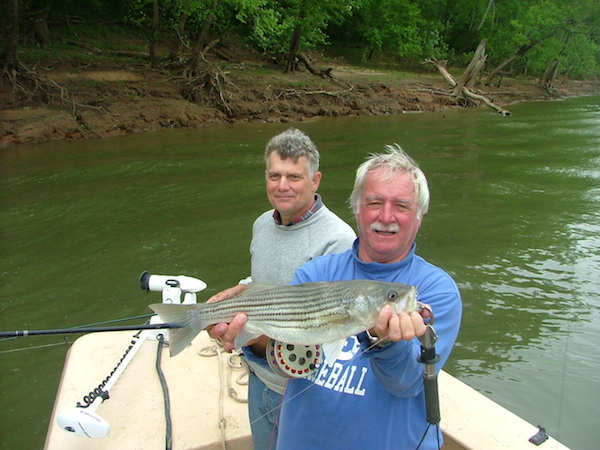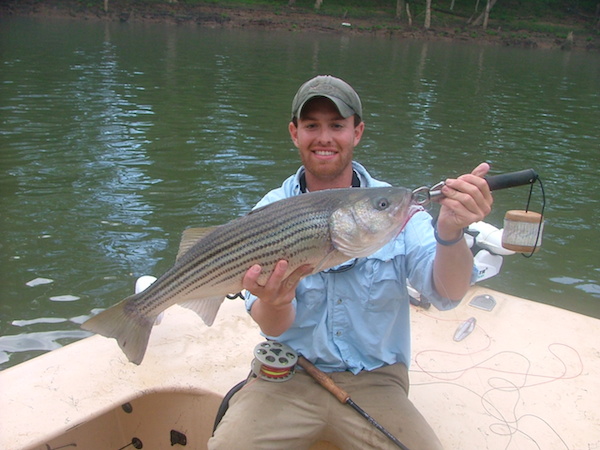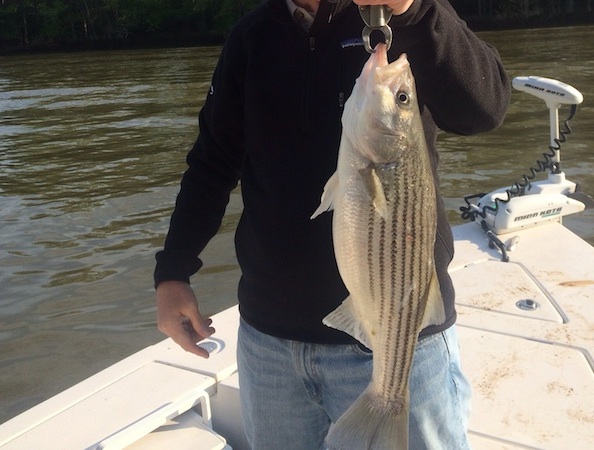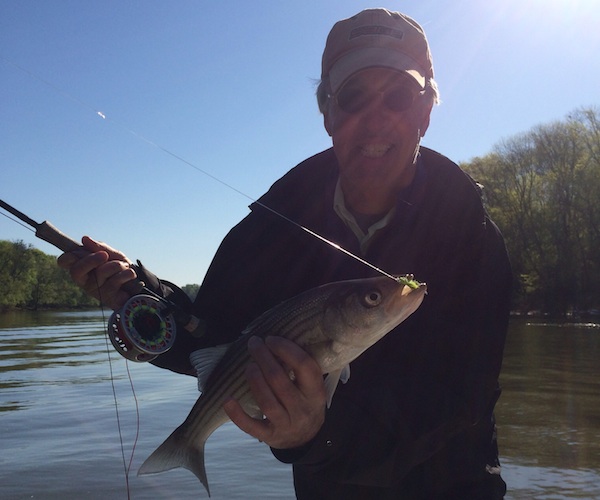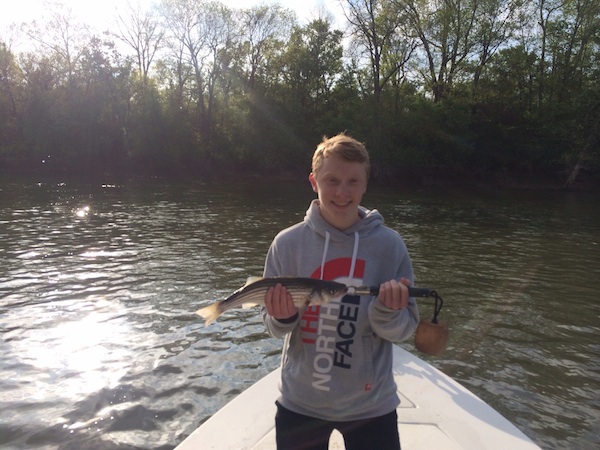 Roanoke River Stripers
April & May
Every year we make the trip to Weldon, NC to fish the famous Roanoke River for it's annual spawning run of striped bass (also called Rockfish). It's a picturesque river famous for anglers being able to land large numbers of striped bass – average catches range from 20 to 100+ per day! We cater to both fly fishermen and light tackle anglers (bait & artificials) during both keeper season (mid to late April) and during the closed season (May) when the crowds are small and the fishing outstanding.
Our schedule varies every year but please contact us for us to help us put your trip together.
Typical Dates are approximately April 20th to May 5-10th
Light Tackle
We use light action rods with either live-bait (sometimes necessary) and various artificials like jigs and topwaters – the bite can vary considerably over the season and we cater our fishing methods to what the customers want to do. The April "keeper season" is most popular with anglers wanting to keep a few fish for dinner.
Fly Fishing
Our time at the Roanoke is spent during peak season when the fishing is at the absolute best – so whether you want to fish in April or May, there are excellent fly fishing opportunities as the Roanoke provides some of the best opportunities to catch huge numbers of striped bass on the fly anywhere in the country. Early morning, particularly later in the season, we hope to start the morning with an outstanding topwater bite after which we transition over to sinking lines and big clousers and deceivers.
Topwater
The later we get into the season, typically in May, early mornings and evenings provide outstanding topwater action for both fly and spin fishermen. During May the crowds are light and the fishing is at its absolute best – if you want to enjoy the best quality of fishing that the Roanoke offers, we recommend May.
WHAT TO BRING
All fishermen must possess  a valid North Carolina freshwater fishing license  
Dress properly with adequate sun protection
Your own drinks or snacks (we can accommodate most medium or small coolers)
If you are keeping fish – make sure you have a cooler to take them home.
We provide all equipment using high-end rods/reels, tackle, etc. but feel free to bring your own fly or spin outfit – just let us know in advance!
BAIT - ADDITIONAL COSTS
All trips require different amounts of bait so to keep everyone's costs fair, we decide in advance what the right amount is for your trip and add the exact retail costs. Some fly anglers want none while larger groups want A LOT. We purchase our bait at the same bait shops as the other fishermen and guides in Weldon – costs are typically $10/dozen and average requested amount range from 4-10dozen.
SPLIT DAYS
Split Days are essentially two half days (or a split full day) designed to optimize the best fishing times of the day. A split day is traditionally started in the afternoon (2-3pm departure time), and then finished the next morning leaving 6-7:30am depending on the bite. While I offer these throughout the season, this trip is designed for late season fly fishermen (from May 1 onward) who want to fish both the early morning and late afternoon topwater bites (the general best times of the day to fly fishing). After May 1 we will also offer these trips in single day that will have a long mid-day break from approx 11/12 – 2/3pm.
CANCELLATION POLICY
Running a remote operation out of Weldon carries significant advanced planning and cost so our cancellation policy is a bit different than my traditional 30-day policy. All Roanoke River trips during the months of April and May are subject to a 60-day cancellation policy – any cancellation within 60 days will forfeit the $150 deposit. We are extremely fair in applying this policy.
Though inclement weather cancellations are extremely rare on the Roanoke River (and remain the decision of the captain), if the captain cancels the trip due to weather automatic refunds will be applied within 30 days.